11 Jun

Pure Magic at Zabriskie Point

Source: Little Big Travelling Camera
FUJIFILM X-T1 (55mm, f/3.5, 1/210 sec, ISO200)

I love sunsets and I have experienced thousands. I also love sunrises but I have experienced far less especially in June. Of course it's easy to see why and also why I had to see this one.
After a very short night our alarm went off at 4am. It was a tough night anyway. The air-condition wasn't powerful enough to deal with the heat of the desert. It was around 30 degrees in our room. When we left it was still dark but already hot at almost 40 degrees Celsius!
FUJIFILM X-Pro2 (13.2mm, f/8, 1/60 sec, ISO640)

FUJIFILM X-Pro2 (24mm, f/8, 1/60 sec, ISO200)

FUJIFILM X-T1 (39mm, f/6.4, 1/80 sec, ISO400)

It's a very short drive from Furnace Creek to the Zabriskie point. When we arrived there we were not the first sunrise watchers. And it was already rather light. The sun has risen already but it was behind the ridge of mountains.
We were still in the shadows. My wife and I decided to sit down and wait at the official viewpoint a little bit above the other spectators. That way I could include them in my pictures. When I started shooting pictures as a kid I always tried to avoid to have people in the frame. I later did the same on my trips to Scotland and Ireland. I wanted to give the impression that I'm the only one in an untouched piece of nature. But that of course is nonsense. You are never the only one anywhere.
On a trip to Norway I changed that for the first time because I wanted to show the size of a waterfall. The only proper way to do that is to include people in a shot. It worked. It worked so good that now I love to put people in the frame even if it means I have to wait for some hikers. A picture of a giant tree only makes sense if you have a person standing next to it.
FUJIFILM X-Pro2 (19.1mm, f/8, 1/150 sec, ISO200)

FUJIFILM X-T1 (55mm, f/7.1, 1/125 sec, ISO200)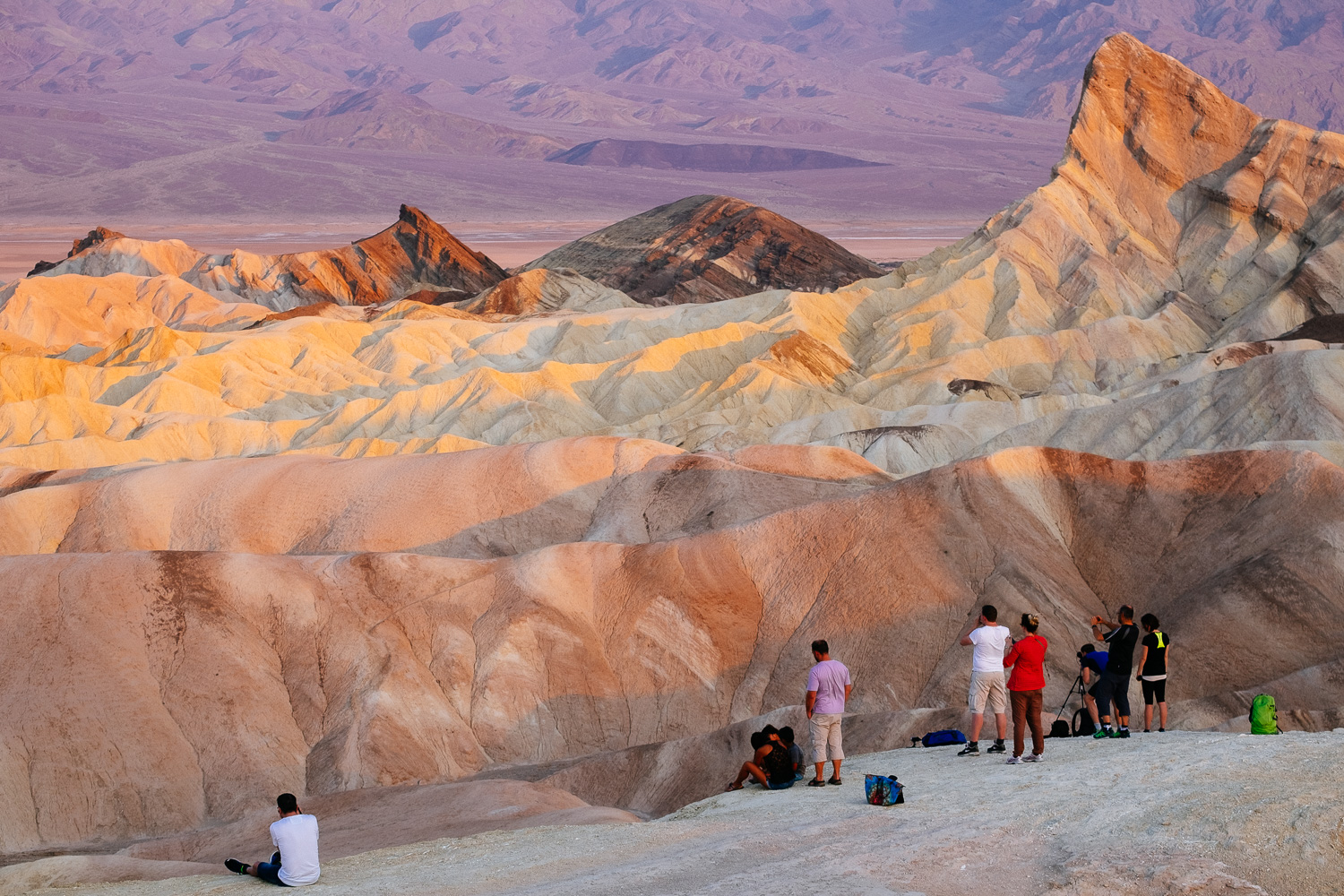 FUJIFILM X-T1 (55mm, f/7.1, 1/125 sec, ISO200)

To avoid to lose any time with lens changes I had both cameras ready. The XF10-24 on my X Pro-2 and the XF55-200 on the X-T1.
When the sun finally appeared over the mountain everything changed. It started with the far away mountains at the horizon that turned magenta and then the close by ones turned yellow, orange and red. It was magic!
Shutters were fired and I also changed cameras like a mad man. I also switched the lens on the X-T1 because the 55-200 was too long as you can see on the image above. There is nothing worse than reaching the end of your zoom when the light is quickly changing. I switched to the kit lens which worked better for the subject.
When I look at the pictures today I realise that I took most images within the range of 16 to 55mm. So next time I will simply use my XF16-55/2.8 for those shots. This rather big and heavy lens that I finally bought after a lot of hesitation. Reasons why I hesitated: as mentioned it's big and heavy for a APS-C mirrorless camera and also because it has no OIS. Though the IS part didn't bother me as much as the size and weight.
Reasons why I changed my mind: 1. compared to the 18-55 it has a much better range. A standard zoom that doesn't start at 16mm(or 24mm in full frame) doesn't make any sense. 2. While f2.8 is not exactly super fast it still allows for some decent subject isolation especially at 55mm. 3. The Fuji X-H1. I have not bought the camera yet but there is a good chance that I will just before my next vacation. I don't care about the video features but I like the fact that it has IBIS (in body image stabilisation). I like to shoot primes and sometimes I shoot in low light. Now I can shoot at lower ISO settings without the risk of camera shake. And of course a lens like the 16-55 will benefit a lot from IBIS. Just like the other lens that I just got the great XF 90/2.0.
But enough heat talk. Back to the Zabriskie point and to my favourite pictures that I have ever shot there.
FUJIFILM X-T1 (77.9mm, f/7.1, 1/160 sec, ISO200)

FUJIFILM X-Pro2 (24mm, f/8, 1/140 sec, ISO200)

FUJIFILM X-Pro2 (24mm, f/8, 1/140 sec, ISO200)

FUJIFILM X-T1 (32.9mm, f/6.4, 1/140 sec, ISO200)

FUJIFILM X-T1 (42.5mm, f/6.4, 1/210 sec, ISO200)

FUJIFILM X-T1 (55mm, f/6.4, 1/125 sec, ISO200)

FUJIFILM X-Pro2 (24mm, f/10, 1/150 sec, ISO200)

FUJIFILM X-T1 (55mm, f/6.4, 1/170 sec, ISO200)

FUJIFILM X-Pro2 (24mm, f/9, 1/200 sec, ISO200)

I said it before. It was just magical. If you visit this place during the day it is still impressive but it can't be compared to what you experience if you witness the sunrise here.
On our first trip to the USA we watched the sunset and on the next day the sunrise at the Grand Canyon. During previous trips we had a beautiful sunrise at Bryce Canyon and a magical sunset at the White Sands Monument in New Mexico or another one during a wonderful hike in the Arches NP. This sunrise today was just as awesome.
Life if good!
I just stated that I like to put people into my landscape shots. That's true. But sometimes it works best just to have one single person standing in a sea of rock. Simply by cropping out the group on the right I got a completely different shot.
FUJIFILM X-Pro2 (24mm, f/9, 1/200 sec, ISO200)

FUJIFILM X-Pro2 (24mm, f/9, 1/210 sec, ISO200)

FUJIFILM X-T1 (55mm, f/9, 1/125 sec, ISO250)

FUJIFILM X-T1 (42.5mm, f/8, 1/250 sec, ISO200)

FUJIFILM X-Pro2 (12mm, f/11, 1/120 sec, ISO200)

Sunrises and sunsets like all great moments in life don't last long. It's only a couple of minutes where the light is truly excellent. After that you still get very good soft light but the magic is gone. When you travel in June you need to stand up very early to catch that light and you also need to stay out long for sunsets.
The best way is to cover sunrises before breakfast and sunsets after dinner. Otherwise you will find yourself at the sea hungry while the sun is still well above the horizon. Another option of course is to travel later or earlier in the year which also helps with the light during the day. In spring or autumn the light is much softer and better suited for good landscape shots. The later in the year you travel the better the light for photography. Last year went to Croatia at the end of October. The light was great even during lunch time so I could shoot images the whole day. The sun set early too so we had dinner after sunset.
It's always a compromise. If you see a place for the very first time in your life of course you want to have long days of daylight to see as many places as possible. If you re-visit a place you can be more relaxed because you have seen most of the sights already. In that case a vacation late in the year can make a lot of sense. We went to the South West of the USA for five times. Every time we spent three weeks and we traveled a lot. We visited most of the top attractions at least once and many of them a couple of times. With every trip we got more relaxed and we became better to focus on only a couple of locations but to spend more time there.
FUJIFILM X-Pro2 (20mm, f/10, 1/140 sec, ISO200)

FUJIFILM X-Pro2 (13.8mm, f/13, 1/60 sec, ISO200)

This was the third time that we visited Death Valley but the first time that we really explored the place. On our previous trips we never stayed inside. We just passed through Death Valley on our way to Las Vegas. Most of the visitors do exactly that. Best case you stay in Lone Pine and start very early means that you will reach Zabriskie Point at lunch time. By that time the whole place and most of the other places in Death Valley like i.e. the Badwater Bassin look just bleak.
To truly experience Death Valley you need to stay inside the park. That way you will see the desert in beautiful evening and morning light. The only thing I would recommend is to try to avoid to be there during a heat wave. Up to 53 degrees Celsius is no fun and restricts the hiking options. It also means that your sleep might be compromised if you stay in one of the bungalows in Furnace Creek where the air-condition is not powerful enough to keep the room temperatures below 30 degrees.
But no regrets! That visit was one of the highlights of our last trip. And I think it was the same for the others that also stood up early to be there at sunrise. Everyone was wearing a smile on the way back to the car park. I want to steal the quote from the New Mexico plates: Land of Enchantment.
FUJIFILM X-Pro2 (10mm, f/13, 1/125 sec, ISO200)

Pure Magic at Zabriskie Point posted on Little Big Travelling Camera on .
Read the full article on Little Big Travelling CameraHome